Intensive Autism Service Delivery Clinic
Autism is a lifelong neurobiological disorder that impairs a person's ability to communicate and relate to others. The CDC estimates that 1 in 68 children have an autism spectrum disorder. Boys are four times more likely than girls to be affected by autism. Autism is the fastest growing developmental disability with a growth rate of 10% to 17% annually.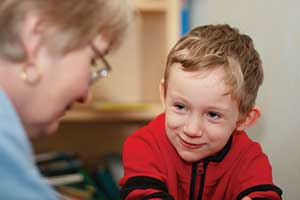 The intensive Autism Service Delivery Clinic (iASD) sees children with a diagnosis of autism spectrum disorder from the ages of two to six. One of the main goals is to help the child "learn to learn" through intensive, individualized one-to-one intervention. Having an impact on these skills at this young age has been shown to have a profound positive impact for children with autism through their lifetimes.
What services are offered?
The Clinic is currently providing very successful one-to-one behavioral services to a limited number of children, ages 2 to 6 years, who have been diagnosed with an autism spectrum disorder. All treatment is based on the science of applied behavior analysis, combining discrete trial training with naturalistic and incidental teaching. Young children served by the clinic receive between 7 and 35 hours of free services per week. They each have an individualized curriculum updated weekly and are taught by at least two different therapists (which helps the skills to generalize) throughout each day.
The Clinic Helps Children to:
"Learn how to learn" through evidence-based behavioral interventions. Learning assessments are completed on each child and individualized curriculum is developed and implemented to assist in skill building in all areas of development.
Where are services offered?
The Intensive Autism Service Delivery Clinic takes place in Morgantown at the Center for Excellence in Disabilities.
How much do these services cost?
There is no charge for these services at the time.
Who provides these services?
All programming is supervised and overseen by a Board Certified Behavior Analyst (BCBA) who has experience in working with young children with autism, and is implemented by trained students or volunteers who are seeking experience in this field. Many of our student volunteers are from the Behavioral Intervention Program in the Department of Psychology-the only such program in the state-that requires 70+ hours of supervised hands-on experience in order to sit for their BCBA licensing exam.
Who is eligible for these services?
Children with a diagnosis of autism from of the two to six. The Clinic is currently limited to five children on rotating schedules due to space requirement and the availability of trained therapists.
Who provides these services?
How do I make an appointment or make a referral for services?
Call toll free at 888-829-9426 to be put on the waiting list.